Pendants, Bracelets, Rings, Custom Jewelry
Every piece of jewelry at METAL URGES is handmade, and most jewelry pieces can be adjusted to your liking with just a phone call or an e-mail message. In other words, every piece of gold jewelry is available in silver and vice versa, all pendants can be put on different chains, and pretty much any special request you make can be honored!
Feel free to contact me using the information below.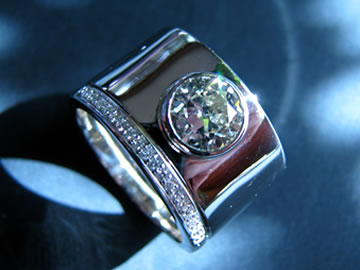 Order a Custom Piece!
Place your custom order for these adorable tags crafted from Sterling silver, measuring about 1/4 inch wide with length dependent on the name, which come on a delicate but tough sterling silver chain. These tags are hand stamped with any name, date, or word you want. I loved the idea of the name and date as shown here, but mine is simply two separate tags each stamped with one of my kid's names, on the same chain. Any combination is possible.  Names or words can also be stamped on rings, bracelets, earrings, keychains...in a 3mm letter size or a 1.5mm letter size (shown).  Shoot me an email or give me a call!
Jewelry Repair
Custom Jewelry Design
Hand Made Gold Jewelry
Unique Silver Jewelry
Precious Gem Stones
14 & 18 Karat Gold
Sterling Silver
If it is a custom piece you are looking for, an initial phone call is best.
If you'd like one of the pieces shown on the jewelry pages, simply use the email link and send me the name and price of the piece, and a shipping address.  I will email you an invoice as immediately as possible, from which you can securely pay online.  All credit card sales are subject to a 2% surcharge. If you prefer to send a check, I will provide you with a mailing address.  As soon as payment is processed, your order will be sent or will be ready for pick-up.  I ship USPS Priority Insured mail.
In some cases there may be a shipping or pick-up delay due to pieces being crafted as orders come in, however if this is the case you will be notified of such and also be given a firm ship date.